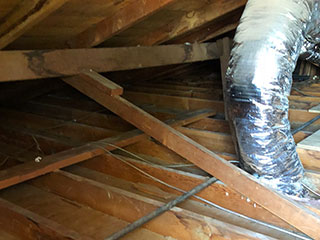 Keeping your crawl space dry and clean will have a positive effect both on your health and your wallet. The best thing - all you need to do is make a phone call and leave the rest up to us.
No Rodents Allowed!
Rodents like to make nests in places that are not much frequented, but offer quick and easy access to food and water. Sounds familiar? It should, because I just described your crawl space! Once they feel safe under your home, they'll find their way into your kitchen and start gnawing at everything within their reach. Enter our team. Not only will we trap and remove these vermin, but will also seal all entry points to prevent future infestations. Cleaning and decontamination? Done and done! In record time.
Clean Debris, Dirt and Allergens
Most of the air you breathe inside your home actually comes from your crawl space, which is why you might experience allergic reactions while at home and stop having them as soon as you step outside! Don't worry, no matter how big or small a mess beneath your home, our technicians will clear it up before you know it. Whatever allergens might be lurking in the darkness underneath your house, we'll get rid of them by thoroughly cleaning the area!
Spend a Little, Save a Lot
The insulation under your home is effective as long as it's intact. However, if rodents tear it to pieces or, if too much moisture is preventing it from doing its job properly, your HVAC system will have to work extra hours to maintain the set temperature. The longer it works, the higher the bills. What's more, the added strain means that the components will start breaking down much sooner, and you'll have to spend both your time and money on repairs. Be a proactive homeowner and give us a call - our team has both the knowledge and equipment to make all your crawl space problems go away.