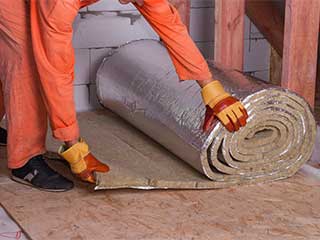 Did you have a new air conditioning system installed but still find yourself paying high electricity bills simply because you're trying to heat your home in those cold long winter nights? Do you think that the air conditioning or heater in your house is working harder than it should? Want to put an end to those high bills? You should think about thermal insulation – to prevent heat transfer in or out of your house and to allow your house to keep in the heat and keep the chill outside, where it belongs. You are more than welcome to hire the help of our experts at Attic Cleaning Santa Monica who deliver high end solutions in the local area, keeping our community warm and comfortable.
Reflective Insulation
Installing radiant barriers at your home will allow you to heat your property much more quickly when you choose to do so. This will result in reduced electricity bills and we all know that easier expenditure means an easier life. Our technicians will professionally install it in your attic, so you can be sure that it's preventing the heat from exiting your house. No more cold air infiltrating the house, no more high bills for you!
Should I Get It?
Putting in reflective insulation shouldn't require too much reflection on your part. By completing an easy process (at least for professionals) which includes installing radiant barrier throughout your attic you can enjoy greater heat deflection in your home. This means that when heat tries to get inside through the roof, this protection will deflect most of it and send it up through the roof again, and outside. On the other hand, when it's nice and warm inside but way too cold outside, the heat from your house will try to get outside, but the radiant barrier will keep most of it in.
Professionals At Your Disposal
Like everything else in life, if you want something done properly you should leave it in the hands of professionals who have the equipment, the know-how, and the will to deliver a job well done.
Make your house warm and cozy again with our services! We also perform attic and crawl space cleaning and decontamination, so be sure to contact us for any related need.