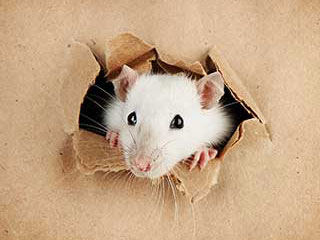 When rats and mice want to gain access to a building, they're not only persistent in their attempts; they can also cause damage and introduce harmful germs to the property. Thankfully, our local team specializes in safely and humanely removing these rodents -what's more,we'll ensure that they're removed once and for all and won't come back.
Rodents Pose A Serious Problem
An infestation of mice or rats can destroy a lot in their path. They will chew through clothing, wire, paper, and any soft material. They also pose a threat to furniture stuffing and wall insulation which can become shredded. Burrowing and nesting can cause plaster and wallpaper to become perforated. Rodents also harbor harmful bacteria which can quickly spread via saliva and droppings to food stuffs and living spaces.
Rodent Proofing And Removal
Sealing up small cracks and weak spots with cement, steel wool or other impervious materials, is an effective way to proof a building against pests. Rodent entry points are difficult to identify – we highly recommend you contact our trained professionals to do this for you. Existing mice and rat infestations are challenging due to the fact that rodents reproduce faster than you can capture them. Ultimately, you need to be trained in dealing with this problem and have the necessary removal equipment to hand.
Extermination Is Not Recommended
While it is a real temptation to put out poison in order to try and eliminate a rodent infestation, this can lead to larger problems. Rat poison is also poisonous to pets and children. The poison's fumes and residue can be hazardous for adults too. Our company specializes in a safer, kinder trapping and non-lethal removal of such unwanted pests.
Contact Us Now
Whether you're dealing with persistent and ongoing rodent problems or want to prevent a further infestation, our rodent proofing services will help to keep your business or home protected. Call us today for an immediate solution to your problem!